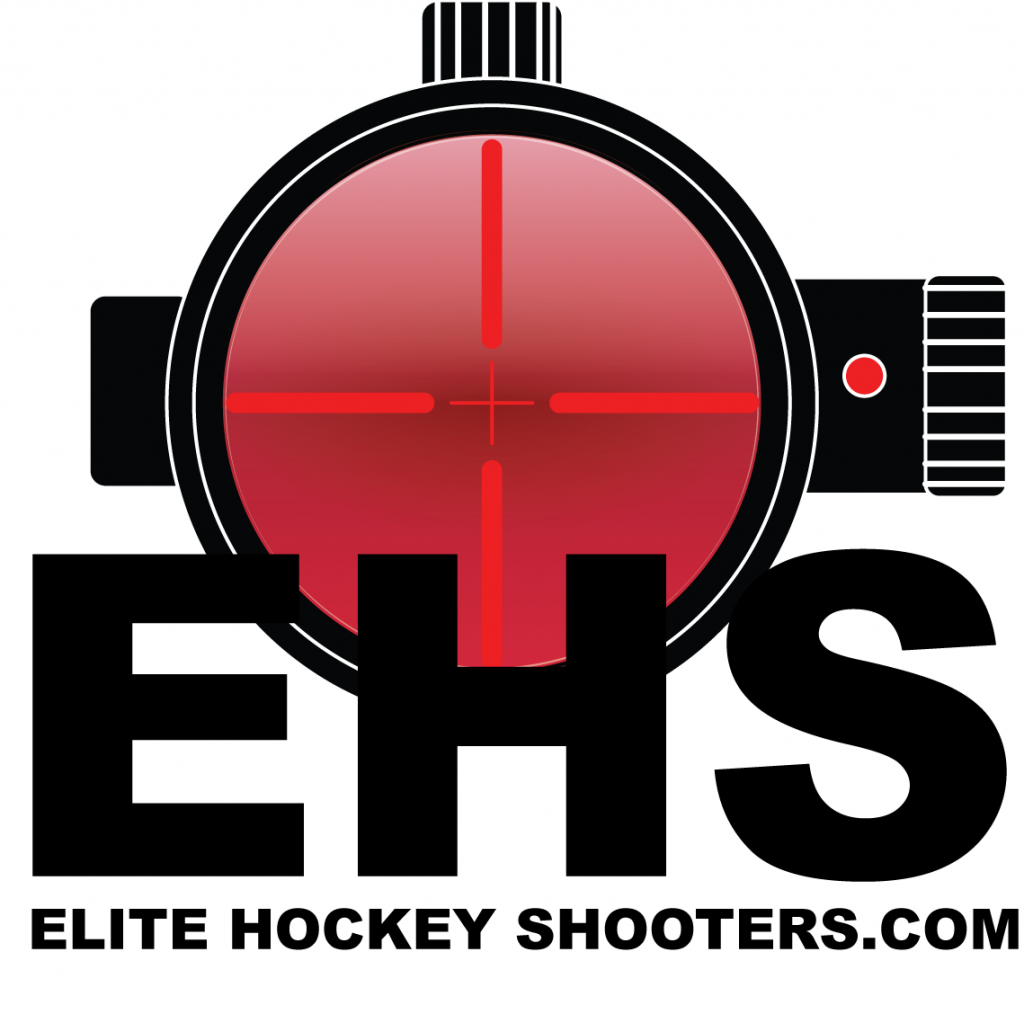 WELCOME to the Elite Hockey Shooting site!
Why the Laser Gun Site in the logo?  Top goal scorers are most often referred to as "Snipers". These people are highly specialized individuals that excel at hitting small targets from great distances, therefore a name and therefore logo most fitting for elite shooters.
This site is dedicated to the art of  Shooting and Scoring. Like all primary sports skills ranging from pitching and batting for baseball to putting and driving for golf,  shooting a hockey puck is a highly specialized skill often taken for granted. In the development marketplace, shooting ranks quite low with the primary focus being on skating and often the secondary focus being on stickhandling skills. However, when it comes to money earned, the art of shooting and scoring contribute the most with top point producers earning the most. Often people think of shooting and scoring as separate "abilities" with shooting being a learned skill and scoring being primarily a "gift". The game is all about scoring; the score clock, the goal judges, the goal tenders, and the two points awarded for a win. Are they really different? It is a good question and the answer is yes.  Often, people that shoot well are not goal scorers and there are players that rack up points that are not great shooters. What then is the difference.
Shooting can really be broken down into the following categories:
Accuracy – is the ability to continually hit a target.
Velocity – can be described as the speed of the shot.
Deception – ability to hide when, where or what shot will be taken.
Tactics – describes the strategies of shooting; where to shoot, why to shoot to a specific location, when to shoot, knowing how to open up holes, etc.
Management – describes risk and future opportunity. For example a shooter may shoot to a specific location early in a shift but a different on late in a shift or, may shoot high from bad angles to establish shot tendencies and then shoot low when in prime scoring position. It can also describe shooting to goal tender's weaknesses as opposed to a shooter's strengths (save high glove).
The EHS Training system is a very comprehensive program designed to walk players; whether beginner or professional through the mechanical principles of shooting to the integration of these skill elements in scoring. One must not forget that clearing a puck out of the zone is indeed shooting as is saucer passing, flat passing, dumping the puck into the zone, etc and as such shooting is in essence the art of propelling a puck.
This site has several key components:
EHS Specialists – This area is open to all viewers and covers our coaching staff, student training history, our coaching certification network, list of certified coaches and training program application for those students or coaches that wish to learn the EHS Training System
Training – This area is open to all viewers and covers training school times and locations, registration fees and information, information on private lessons, our Mentorship program, complete consulting services as well as satellite programs that offer our training methodology.
The Vault – This area includes the latest shooting research; training videos and pictures and is only available to EHS members. Videos will cover both off and on ice training exercises designed to enhance your shooting skills.  This area of the site is available only to EHS members at $19.99 per month. yearly plans are available.
EHS 960 Program – 960 stands for the number of minutes each day that we have (take away the 8 hours of sleep) to dedicate to and improve ourselves. While much of this time is taken up eating, school, working, etc., the concept remains simple in that minutes add up and they count. The EHS 960 Program is about maximizing your training in the shortest time possible through practice, visualization and observation. This area is all about training and will cover everything from muscle building, conditioning, brain training and nutrition to  tutorials on mechanics, and highly specialized training tips to assist you in becoming the best shooter and goal scorer possible.  Included in this area is the Warrior Within; personal mental strategies to enhance your game play and scoring, Log Books which explain the use of the shooter's training diary, the Recon Zone which analyzes specific hockey equipment that impact shooting skills such as gloves, sticks, tape, etc. Also included in this section is the OFF Season Guide showing proper training cycles and periodization. Lastly, the Mail Bag. In this section, feedback from you on products will be posted for members to view. This area is again off limits to all but members.
Partners – This section is all about our scouting and recruiting services where we provide information about you to teams and agents, with your approval of course! Our privacy policy is simple: "We will never disclose information about you to anyone unless we have your approval in writing". The equipment section will cover products that we believe in and we will provide all data possible to help you make an more educated choice on your selections. This area is open to all viewers.
Store – This area is where we offer our specialized products designed to maximize your development and is open for all viewers.
Hall of Fame – This area of the site is dedicated to those players that have achieved the highest level of goal scoring success. Players such as Mike Bossy, Bobby Orr, Brett Hull have now been added with many more to come.
World – This area of the site is dedicated to those special places that are in essence home to the shooter; their place of practice and at game time, their personal stage where they get to show case their talent. There are literally thousands of both indoor and outdoor ice rinks around the world. This area will provide pics of some of them. If you have any unique pictures, please forward them to ron@elitehockeyshooters.com for posting.