Consulting Service
EHS brings 38 years experience of player evaluation and developmental planning to both amateur and professional athletes. Consulting can be adapted to service a wide range of athletes and experience ranging from minor associations to private clubs, teams, individual players to junior leagues, teams and professional organizations. With such high demands on today's player, it is critical that career performance tracking and corrective measures are taken to maximize opportunities. It has been said that "What can be measured can be improved!" Corporations constantly assess and reassess business marketing and performance so as to maximize on their returns. High School, college and university students constantly write exams allowing them to assess knowledge of their subject matter.
With thousands of  players competing at all elite levels of hockey, today's player must continuously be looking to improve their competitive advantage through assessment and correction. This cycling of assessment and development allows one to maximize career opportunities by never straying far off course.
EHS Consulting services are as follows:
Specialized Training – Individual instruction or group sessions are available for specialized shooting classes. Class length vary from 30, 45 to 60 minutes. Pricing will reflect either personalized one on one instruction or group as well as class length.
Video Analysis – Two video services are offered with the first being "You provide". This means that game tapes or skill or practice sessions that have been video taped are submitted for review for either mechanical evaluation or tactic assessment (game decision making). The second option would be an on-ice session where one of the EHS staff takes video for review.
Game Assessment – An EHS Staff member will attend one of your games or practices and will provide an in-depth written assessment of overall performance ranging from decision making, skill fundamentals to pre-game preparation. A quick meeting after the game will be included so as to quickly review overall performance with written assessment to follow within 48 hours.
Testing Analysis – Testing relative to shot accuracy, velocity and strength would be done in conjunction with video review so as to create a comparative assessment against other players in the same peer group or higher.  Both on and off ice testing can be done for skating and stick handling as well.
Mentorship – One on one consultation is available to discuss playing options, career decisions, training guidance as well as representation services. EHS Staff experienced in junior requirements, NCAA regulations and professional contracts are available.
Please note: While the primary objective of this site is to evaluate and promote shooting excellence, other services in the way of both mechanical assessments and timed skill evaluations are available also for skating and stick handling.
Video Analysis / Mechanical Assessments:
The following picture demonstrates the mechanical elements of player's slap shot. A high speed digital camera is utilized to capture a player's shot and then a very in depth report is created demonstrating mechanical deficiencies and the player is placed on a developmental program. Players may submit their own video for assessment as well when an EHS center is not in their vicinity.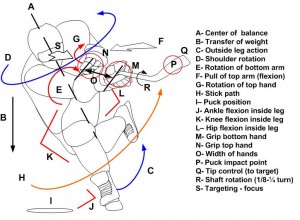 This evaluation requires approximately 1 to 2 hours to complete. Evaluations are available for all shooting fundamentals.
Game Assessments:
The following example demonstrates the extent of game play evaluations. The evaluation provides a player or organization with direct insights into scoring tactical application as well as shot selection, lane of attack, and shot on net location. A study was completed in the 2009/2010 season of 10 NHL teams. A goal by goal analysis was done for every goal scored by each team with some incredible insights into shooting and goal tending habits of NHL players. Similar studies have been done at the Bantam and Midget elite levels.