During the years 2000-2004, several Japanese instructors came to Canada to explore teaching options and philosophies. The most noted instructor was Takuji Fujita who currently runs the Maple Leaf Hockey School in Japan shown on the left. Takuji and I sightseeing in Tokyo when I reciprocated and went to Japan in 2008
The picture is a collection of students taken at one of Takuji's hockey schools where I was guest instructor.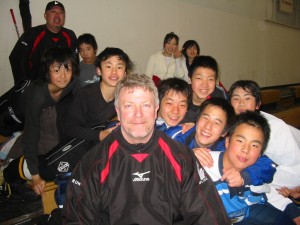 Takuji continues to expand the elite hockey philosophy working across Japan and continues to visit Canada as time permits.
It has taken approximately 15 years to refine the Elite Hockey Shooting program. Only now has it become possible for aspiring students wishing to instruct the EHS System, to explore in depth certification programs allowing them to teach young players and through committed training, expand into the elite, junior and professional ranks.
Contact Ron Johnson for further information on this certification program.
ron@elitehockeyshooters.com